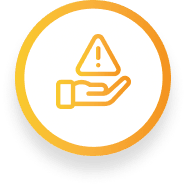 Proactively Meet Federal
Compliance Requirements
Build trust and confidence in your compliance program with our real-time,
integrated compliance automation platform. RegScale ensures your compliance
artifacts are continuously kept up to date, holistically managing both manual and
automated assessments against federal compliance requirements.
Are You Prepared for Change?
New applications are coming online at record
speed. Shift left your agency's security and
compliance program and ensure your compliance
documentation is continuously up-to-date.
75% of government agency cybersecurity
programs are "at-risk" or "high risk" with
significant security gaps and a lack of
fundamental processes.
Integrating cybersecurity is the first step to upgrading your
relationship with compliance. Continuous Compliance for
Government Agencies
Simplify with Automation
Build security plans in a few clicks, plan assessment schedules, and manage all
compliance checks against your
security controls.
Stay Ahead of Schedule
Create Plan of Action and Milestones
(POAMs), track activity, and manage
compliance activities in an encrypted,
secure compliance management platform.
Easily Access
Review your organization's state of
compliance across all information systems
with beautiful, intuitive real-time reports that
are easy to share and understand.
Ready. Set. RegScale.
RegScale helps you stay continuously compliant with the vast number of growing regulations that govern your organization and industry - all in real-time.